The Book Blogger Hop is hosted by jennifer at
Crazy for Books
. This week's Hop question is:
"If you could physically put yourself into a book or series…which one would it be and why?"
I LOVE this question! The answer is so easy for me, too! I would absolutely put myself into J.D. Robb's 'In Death' series. I would make sure I would become one of the fun, smart, strong recurring characters, though. I would NOT want to be a murder victim. No way - too, too creepy!Maybe I could work with Feeney's EDD team. I love electronics and gadgets. It'd be fun to solve a crime using all the futuristic gadgets. Although, a lot of the gadgets in the futuristic NYPSD are quite like the ones we have now - iPhones, etc. I wonder what J.D. Robb thinks seeing some of the stuff she started writing about in the 1990's coming into being. I would think it'd be cool but maybe just a tad strange.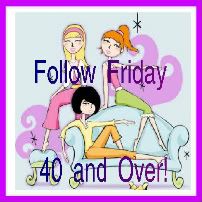 And here is the button for 'Follow Friday' over at Java's
Never Growing Old
- also a fun blog to visit.