So, I recently turned 40. That looks really weird - sorry but it does! LOL I don't think 40 is
old
but I don't feel like I'm forty, either. Does that even make sense? I'm not having any sort of melt down about it (except that I'm a little annoyed that my eyes have gotten a bit bad) and yet I can't fully grasp it.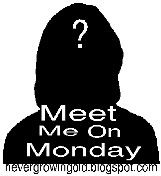 Anyhow, in the spirit of embracing my forties, I am going to participate in some weekly events at a wonderful blog I discovered -
Never Growing Old
The perfect explanation about this event, from the blog itself:
Blogging is a funny thing...we tell our most intimate thoughts for all to read and yet most of the time I find myself sitting and wondering, "who is this person!?" I know them...but yet I don't know them! I want to know who the person is behind all those words so I thought of a great way for all of us to "meet" each other!
Every Sunday Never Growing Old will post five get to know you questions that you can copy and paste into your own Monday post and we can all learn a little more about each and every one of us!!
1. Did you watch the Superbowl?
Nope. I have in the past but I just wasn't interested this year. My husband went with one of his best buddies to a sports bar and seriously cheered for the Steelers. I played designated driver and it was sad going to pick them up last night. My girls and I had a fun, relaxing, quiet afternoon and evening together.
2. What is the last book that you read?
This question makes me giggle because I read ALL THE TIME. Seriously, I am never, ever without a book - or two. I am about to finish Married by Morning by Lisa Kleypas. it's a wonderful book and a great series. I'm not sure what I'm reading next. There's a book coming out tomorrow called A Discovery of Witches that I am quite curious about. Maybe that's up next - we'll see.
3. What is your favorite kind of cake?
Oh cake - you are my friend - even if I don't eat you all that much because you go straight to my thighs. LOL I love German chocolate cake but don't eat it anymore because one of my daughters is very allergic to nuts. I won't risk having it around. I also adore, and will actually eat, red velvet cake. Yum!
4. Do you snore?
According to my husband I snore when I'm exhausted or have a stuffy nose - otherwise, no. He, on the other hand, snores EVERY night. Some nights are better than others and some nights I have to send him to the couch. it's sad but true.
5. Do you play an instrument?
Yes. I play the flute. My oldest daughter is starting to show an interest in learning to play, too.
This was fun. I will definitely be participating in this again. Have a wonderful week, everyone!