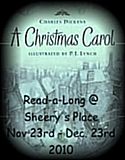 A Christmas Carol
by Charles Dickens is a book I've been meaning to read for a long time. Every year around this time I tell myself that I am finally going to read it. And
every
Christmas when the movie plays on television I kick myself for yet again NOT reading the book. Well, not this year, no way. I admit that I love the movie but as a self-professed bookworm it just seems wrong that I have never read this book.
Right before Thanksgiving (in America) I am going to read the first part of this book. By Christmas I will have read the whole thing, darn it. Who wants to join me? This is my first time hosting an online read-a-long but I know this will be fun. Each week, I'll post a few questions about the section we've just finished and we can blog about it together.
If this sounds like fun to you too - then please sign up below to participate. And feel free to invite other friends to come and participate with us. Oh, and don't forget the button I made just for this event. LOL I had fun making the button and would love to see it around on your blogs!